type your E-mail address here:
Request further information and/or special offer details


type your E-mail address here:
Request Sales Dpt. Contact


type your full name here:
type your company name here:
type your phone number including country code here:
type your preferred calling time here:
type your E-mail address here:
JAWA SOFTWARE is a GBM/IBM Business Partner. The company is a leading developer and supplier of fully integrated front and back-office application software solutions to the retail industry.
JAWA SOFTWARE™ philosophy is to offer the most up-to-date features and technology in our services, whilst providing the fullest extent of management and support, as to allow our clients to conserve time and resources.

JAWA SOFTWARE™, is a world-wide leader in software and Internet Solutions. The privately held company, it's part of a multinational group, consisting of a number of organizations, inducing the following:

1) JAWA SOFTWARE
2) JAWA LOGISTICS
3) BURGAN OIL
4) AL RASAN


We have direct offices in number of countries around the world.
JAWA SOFTWARE™ founded in 1974, but was relaunched in 1994 as a premium-quality Software Development and System Integration Company. We have now established a reputation for developing and implementing Strategic Business Software Applications in a variety of very demanding situations.

JAWA SOFTWARE™ - TOUCH THE WORLD!™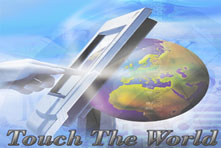 November 07, 2006 News Header
HR Payroll & Personnel Beta Test.
The system is now available for public test on our website,
Click Here for live demo.